Roots to Routes mit Trisha Sewell
Workshops mit internationaler Trainerin
Trisha is back! Sie hat uns schon öfters mit ihren Workshops begeistert und jetzt haben wir sie wieder eingeladen. Alle Workshops sind in englischer Sprachen, haben eine 15-minütige Pause und finden im SLIH Ballroom statt.
Zu diesen Workshops kannst du dich alleine anmelden. Trisha wechselt Solo-Übungen ab mit Übungen, wo du mit verschiedenen Partner:innen gemeinsam tanzt.
Programm
Freitag, 1. Dezember 2023
19:15-21:30 – Motherland Rhythms & Jamaican Mento
Samstag, 2. Dezember 2023
11:00-13:15 – Ebb 'n Flow
14:30-16:45 – The Playful Dancer
Sonntag, 3. Dezember 2023
11:00-13:00 – Shake and Groove
14:30-16:45 – Communication and Expression
Preise
1 Workshop: € 45
2 Workshops: € 85 (statt € 90)
3 Workshops: € 115 (statt € 135)
4 Workshops: € 140 (statt € 180)
5 Workshops: € 160 (statt € 225)
Freitag Abend
Freitag, 1. Dezember 2023
19:15-21:30
Voraussetzungen
Offen für alle Level
Am Freitag wird uns Trisha in zwei Stunden zwei verschiedene Themen näher bringen: Motherland Rhythms & Jamaican Mento.
Offen für alle Tänzer:innen, keine Vorkenntnisse vorausgesetzt!
Motherland Rhythms
Unleash your inner dancer through the vibrant art of West African dance, allowing you to connect with the rhythms and move your entire body freely.
These movements are all about improvisation and expressing yourself, celebrating the beauty of life and all its experiences. You'll explore exciting concepts like polyrhythms, isolations, call-and-response, individualism, and the inner performative function of dance.
By the end, you'll have a deeper understanding of the roots that gave rise to Lindy Hop, Shag and Balboa.
Jamaican Mento
The Mento is the more "rootsy" version of the Calypso. It is widely recognised as the traditional folk dance of Jamaica and is likely the dance with the strongest connection to its West African origins.
Mento incorporates the musical traditions that West African slaves brought with them to Jamaica. where they often had to perform music and dance for their masters. They blended elements of European traditions like the quadrille into their own Creole folk music.
The result is the lively and spirited dance known as Mento.
Samstag
Sa. 2. Dezember 2023
11:00-13:15 bzw. 14:30-16:45
Voraussetzungen
Klasse 1-3 oder Solo Jazz / Charleston Erfahrung
Trisha passt das Tempo im Kurs an die anwesenden Teilnehmer:innen an.
Daher sind die Samstag Workshops trotz Level Empfehlungen von Klasse 1-3 auch für Tänzer:innen höherer Levels geeignet – Trisha wird lediglich langsamer vorgehen bzw. das Unterrichtete häufiger wiederholen.
Ebb 'n Flow
Sa. 11:00-13:15
Lindy Hop is a dance that beautifully blends both partner and solo movements. To truly enjoy Lindy Hop, you should feel at ease and comfortable with your body. If mixing the partnered and solo movements challenges you, then this class is for you!
Trisha will show you the patterns of essential jazz steps that every Lindy Hopper should know. The focus here is on the style, technique, and rhythm of each move.
You'll also learn the art of transitioning smoothly to create that delightful 'ebb and flow' in your dance.
The Playful Dancer
Sa. 14:30-16:45
Learn how to sync your body's movements with the music in this guided, step-by-step process. Here you'll create movements that feel natural and comfortable within your own body.
Trisha will focus on helping you move freely, without the need to memorize choreography or specific steps – relieving you of the stress of thinking that you must execute jazz steps in the 'right' way. Instead, you'll explore movement patterns that are entirely your own, allowing you to express yourself authentically. There are no rules or judgments here.
This approach will enable you to engage and connect more deeply with the music, enhancing the joy of dancing for both you and your partner.
Sonntag
So. 3. Dezember 2023
11:00-13:15 bzw. 14:30-16:45
Voraussetzungen
Klasse 3-5
Für die Sonntags-Workshops solltest du mindestens 1 Jahr Solo oder Paartanz Erfahrung haben.
Shake and Groove
So. 11:00-13:15
Jazz dance is all about developing a rhythm. You will enjoy solo dancing more when you use basic steps to discover the natural, groovy motion.
This class challenges you to achieve a "natural" appearance and feel within your body.
It's all about showcasing your unique style with attitude, conviction and dedication.
We will work with various musical styles, from blues to soul, and explore what makes a good dancer.
Communication and Expression
So. 14:30-16:45
Dancing offers you the opportunity to express your emotions and thoughts through the language of movement.
No words are needed; the body becomes the storyteller. With dance, you have the ability to express a wide range of emotions, thoughts, and feelings, as well as narrate meaningful stories. This makes it a deeply personal form of communication.
Through a series of exercises, we will explore the art of communicative and expressive body language and examine how they shape our partnerships and connections on the dance floor.
About Trisha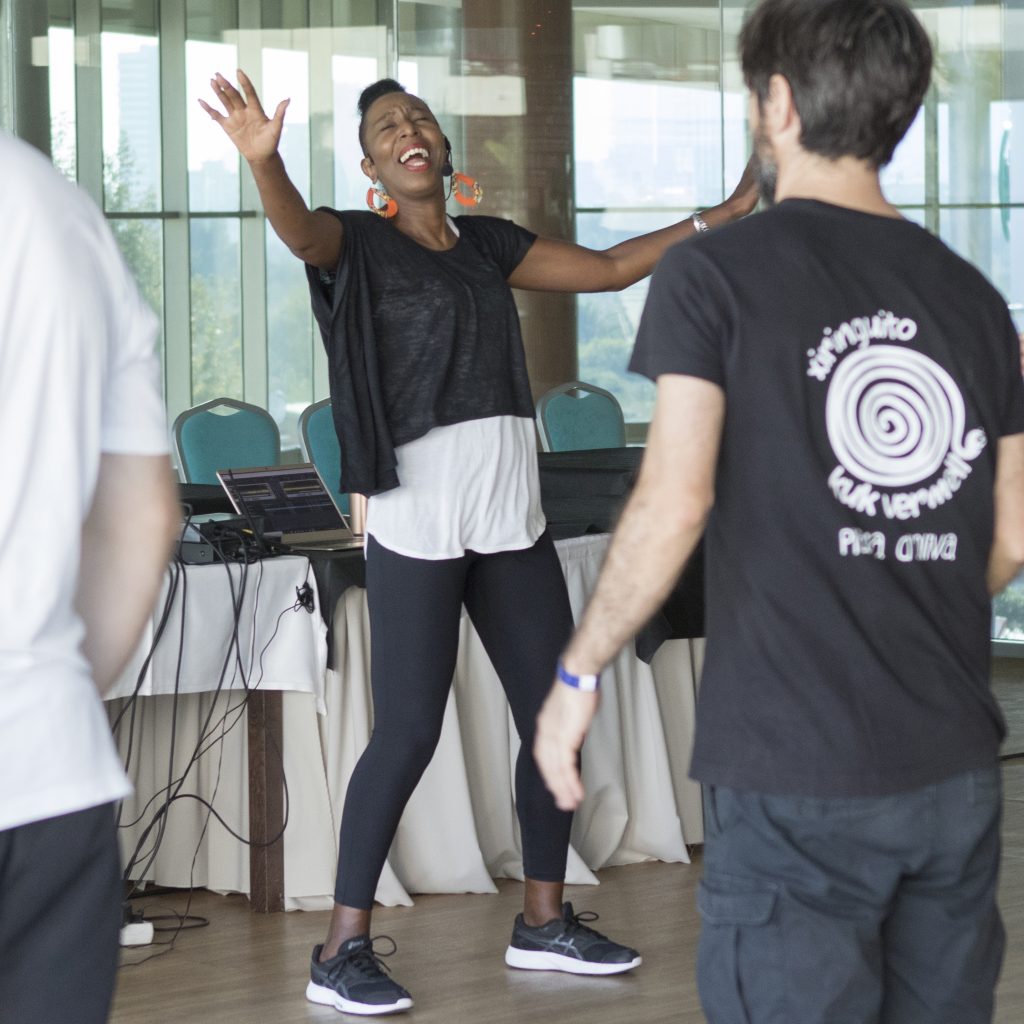 Trisha aus ihrer Bio:
Dancing from the age of 3, I have not stopped spreading my joy and love of dance.
Now in my 'Reinvention' period, it has been a time for change, discovery, empowerment and pushing the boundaries.
Using these key elements I'm focused on providing quality, well designed solutions for the dance world.